My husband's great-great-grandparents, Hugh Doak (1816-1888) and Jane (Gibson) Doak (1827-1907) and their eldest child, toddler Margaret Doak (1846-1924), embarked for New York from Belfast, Northern Ireland, on the ship Margaret in 1849. In the midst of famine and economic troubles, the young family from County Down were in search of a better life in America.
There were 133 passengers from Belfast listed on the manifest when the Margaret arrived in New York on November 16, 1849. The record only shows when they arrived, not when they departed, so I can't tell how long they were at sea. The Atlantic crossing at this time could take anywhere from three weeks to three months, depending on weather conditions. I haven't been able to find any more information on the ship they sailed on, except that there was a ship called the S/S Margaret that served for the Cunard Line between 1840 and 1859.
The remarkable part of the voyage of the Doaks, however, is that a second child, daughter Mary Jane, is listed on the ship's manifest as "born at sea." So great-great-grandmother Jane gave birth  on the Atlantic, in the late fall, in steerage.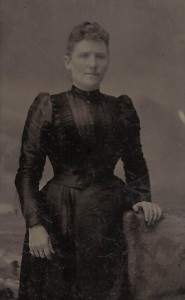 The conditions on board an immigrant ship were neither hygienic nor comfortable. Steerage was crowded, cramped and airless, and passengers even had to cook their own food in a tiny shared kitchen. One doctor reported that competition for cooking facilities were sometimes so fierce that a woman could only manage to prepare one meal a day for her family.
Here is one description of the conditions, which "varied from ship to ship, but steerage was normally crowded, dark, and damp. Limited sanitation and stormy seas often combined to make it dirty and foul-smelling, too. Rats, insects, and disease were common problems" (Smithsonian).
Even more remarkable, eight other children besides Mary Jane were listed on the manifest as "born at sea" during the ship's passage.
Hugh and Jane went on to have eight more children of their own after they settled in Pittsburgh, Allegheny County, Pennsylvania. And Mary Jane (Doak) McCombe (1849-1937), the child born at sea, lived to the ripe old age of 88.
Hardy folks, these.
How we're related to Mary Jane (Doak) McCombe:
Her parents, Hugh Doak (1816-1888) and Jane (Gibson) Doak (1827-1907)
Their daughter, Mary Jane's sister, Selena (Doak) Lyttle (1861-1946) and her husband James Lyttle (1858-1925)
Their son Richard Gibson Lyttle (1901-1988) and his wife Jessie Margaret (Gillis) Lyttle (1899-1969)
Their son, my husband's father
My husband
Sources:
Ancestry.com. Passengers arriving in New York 16 November 1849 on the ship Margaret. http://search.ancestry.com/cgi-bin/sse.dll?db=irishfam&ti=0&f17=Margaret13316November1849
Smithsonian Institution. "Enterprise on the Water." http://amhistory.si.edu/onthewater/exhibition/2_3.html , accessed 19 July 2014.
Dobie, William Currie. "Sailing Across the Atlantic Sixty Years Ago." The Thunder Bay Historical Society Fifth Annual Report; Papers of 1914. pp 35-38. Transcribed by Charles Dobie. http://freepages.genealogy.rootsweb.ancestry.com/~cdobie/g-sail.htm , accessed 19 July 2014.
Irish American Journey.com. "Irish Ships To America." http://www.irishamericanjourney.com/2011/10/irish-ships-to-america.html , accessed 19 July 2014.
Norway Heritage.com. S/S Margaret, Cunard Line. http://www.norwayheritage.com/p_ship.asp?sh=marga , accessed 19 July 2014.