I haven't added to this blog in quite a while because I've been so busy with my genealogical speaking and research for clients, but I was in a genealogy class recently in which the instructor said we should all go home that day and write down one family story that only we knew and we should share it with other so it wouldn't be lost.
Here's what I wrote: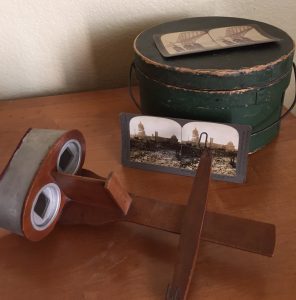 My mother told me this story a number of years ago. I don't think any other living person in the family knows it. It concerns my grandfather, Harold Benjamin Hundey (1907-1987) and his maternal grandparents, Merritt J. Woodward (1846-1928) and Ellen Crout Woodward (1851-1915).
One day when he was a little boy, my grandfather was home in bed, sick. His mother brought home her mother's stereoscope and viewing cards to keep him occupied while he recovered. The next day, the house belonging to his grandparents burned to the ground, consuming all their possessions. The stereoscope and the wooden hatbox full of viewing cards were the only items that escaped destruction.
They sit on my dresser now so I can look at them every day.
It's so important to share our family stories!
How I'm related to the Woodwards:
Merritt J. Woodward (1846-1928) and Ellen (Crout) Woodward (1851-1915)
Their daughter, Mayme (Woodward) Hundey (1889-1971)
Her son, Harold Benjamin Hundey (1907-1987)
His daughter, Donna Jean (Hundey) Burke Weaver (1930-2003)
Me