I've been meaning to start this blog for a very long time, and finally I just decided to get on with it.
My mother, Donna Jean (Hundey) Burke Weaver (1930-2003), and I took an adult ed class in genealogy in about 1974 at Northern Illinois University in DeKalb, DeKalb Co., Illinois, where we were living. We'd both been interested in genealogy, but we didn't really understand how to go about family history research in an organized way.
The class was an excellent introduction to all the forms and methods of research available at the time. I wish I could remember the name of the woman who taught it, because I'd like to try to track her down and thank her for getting us started down this road.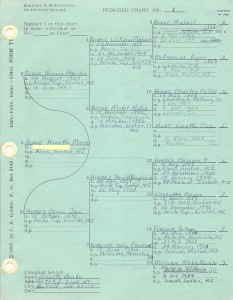 After the class, Mom and I worked on getting information from older relatives, sending away to county courthouses for documents, traipsing through cemeteries, tracking down books that might contain information on our forebears — all the activities that characterized pre-Internet research. As my career became more busy, I had little time to spend on it, but Mom kept on plugging.
When the Internet came along, Mom embraced email for contacting family members at a distance, Family Tree Maker for organizing her records, and FamilySearch for early online research. She bought a laptop to take on her trips to the Family History Library at Salt Lake City and to other research locations. She would love all the things we can do with technology these days!
After she died, I inherited the boxes and boxes of stuff she'd accumulated, along with her Family Tree Maker files. I was still working, and would still be for another eight years, so I was unable to do anything about organizing and sharing all the great information she'd found. But now that is my work in retirement.
In the meantime I had done a lot of thinking about the best way to give other family members access to these treasures of family history. While pedigree charts and death certificates get us genealogists excited, they're pretty dry in themselves. It's the stories they tell that can capture the imagination.
This blog is for telling those stories, so my extended family can take part in the delight that comes from learning about those people who came before us, and so that they and I can honor the love and hard work that went into making our own lives possible.
And I've just told my first family story….