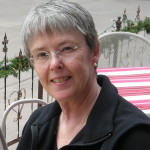 The purpose of this blog is to turn the raw material of my mother's and now my genealogical research into family history: stories of our ancestors that will bring them to life and allow us to understand the people that we come from and the times in which they lived.
Mom spent 30 years researching our family history. Genealogists deal in research and charts and sources. But all that research cries to be shared with family members in a way that's appealing and understandable for non-genealogists. I'm turning the raw material of genealogy into the stories of family history so family members near and far can learn about and enjoy their family tree.
I welcome contributions from anyone interested in our shared heritage.