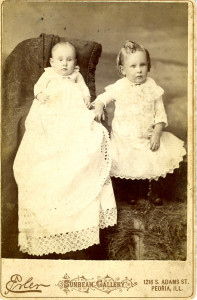 Families are funny things, and their dynamics are complicated. Even though I was 18 when he died, I never met my Grandpa Bill's (William Michael Burke [1888-1956]) older brother or any of his family.
Jack and Bill were the sons of Michael Burke (1854-1889) and Agnes (McCormick) Burke (1863-1918), my great-grandparents. The boys were barely toddlers when their father died, aged 35, in an industrial accident in Peoria, Illinois. Their mother took them back home to White County, Indiana, where both she and Michael had been born.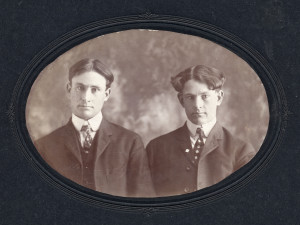 On 31 January 1893, Agnes married her second husband Franklin Riggs in White County. They lived in West Point Township, White County, Indiana, until they moved to Arcada Township in Gratiot County, Michigan sometime between 1910 and 1920. Arcada Township is where Grandpa Bill's farm was, but I don't yet know where Agnes and Frank lived in the township.
Frank and Agnes had eight more children, in addition to the boys from her marriage to Michael. It's easy to imagine that Jack and Bill might have felt marginalized in this big, new family. There's no way to know at this point what kind of stepfather Frank was, but I remember my father occasionally mentioning his name in a not-very-nice tone of voice, perhaps passing on his father's attitude. I don't know. Frank died 9 January 1952, six months before I was born.
But back to Jack and Bill. Jack lost his right arm in a hunting accident when he was young. According to his granddaughter, Carole Grimes, Grandpa Bill accidentally shot him – yikes.
On 10 February 1915, Jack married Dorthea Belle Miksell (1890-1965). The 1920 Federal Census shows them farming in Arcada Township, Gratiot County, Michigan. By 1927, though, they were living in Michigan City, Indiana, where they remained for the rest of their lives, living at 1515 W. 10th St. Jack worked for the Pullman railway car manufacturing company, painting rail cars.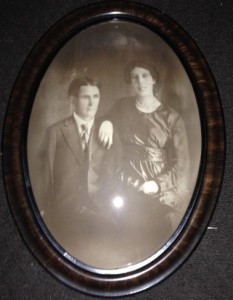 It's a shame when close family members don't know each other, but I'm very happy that 21st Century technology has allowed me to connect with cousin Carole, Jack's granddaughter. And I'm grateful that she's given permission for me to share these great pictures of her grandparents.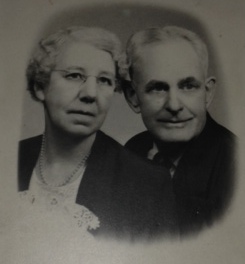 How I'm related to Jack:
Michael Burke (1854-1889) and his wife Agnes (McCormick) Burke (1863-1918)
Their sons, John Andrew Burke (1887-1971) and William Michael Burke (1888-1956)
William Michael Burke is my father's father; John Andrew Burke is my great-uncle
Sources:
Ancestry.com, U.S., Social Security Death Index, 1935-Current (Online publication – Provo, UT, USA: Ancestry.com Operations Inc, 2011. http://search.ancestry.com/cgi-bin/sse.dll?db=ssdi&h=8175678&ti=0&indiv=try&gss=pt.
Ancestry.com, Indiana, Marriage Collection, 1800-1941 (Provo, UT, USA, Ancestry.com Operations Inc, 2005), Ancestry.com, White County, Indiana; Index to Marriage Record 1850 – 1920 Volume I Lett, W. P. A. Original Record Located: County Clerk's O; Book: C-12; Page: 285. Record for John Burke. http://search.ancestry.com/cgi-bin/sse.dll?db=inmarr1880&h=404937&indiv=try
Ancestry.com, Indiana, Marriage Collection, 1800-1941 (Provo, UT, USA, Ancestry.com Operations Inc, 2005), Ancestry.com, White County, Indiana; Index to Marriage Record 1830 – 1920 Volume II Let, W. P. A. Original Record Located: County Clerk's O; Book: 5-W; Page: 74. Record for Agnes McCormick. http://search.ancestry.com/cgi-bin/sse.dll?db=inmarr1880&h=1900801&indiv=try
Ancestry.com, U.S. City Directories, 1821-1989 (Provo, UT, USA, Ancestry.com Operations, Inc., 2011), Ancestry.com, Record for John A Burke. http://search.ancestry.com/cgi-bin/sse.dll?db=usdirectories&h=648594919&indiv=try
Ancestry.com, 1920 United States Federal Census (Online publication – Provo, UT, USA: Ancestry.com Operations Inc, 2010. Images reproduced by FamilySearch.Original data – Fourteenth Census of the United States, 1920. (NARA microfilm publication T625, 2076 rolls). Records of the Bureau of the Census, Reco), Ancestry.com, Year: 1920; Census Place: Arcada, Gratiot, Michigan; Roll: T625_763; Page: 6B; Enumeration District: 31; Image: 1158. Record for John Burke. http://search.ancestry.com/cgi-bin/sse.dll?db=1920usfedcen&h=17642419&indiv=try