The Bliss family has been in America since about 1635. Though there are still a lot of facts for me to sort out and document about the earliest Blisses and their relationships, I've established through good sources that my grandfather, Harold Benjamin Hundey (1907-1987), is descended through his mother, Mayme (Woodward) Hundey (1889-1971), from Samuel Bliss (1734-1786), who was a Minuteman in the American Revolution.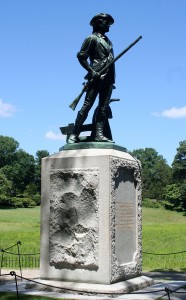 Samuel, my 6 times great-grandfather, was born 11 February 1734 in Brimfield, Hampden County, Massachusetts. On 3 December 1758, he recorded his intention to marry Mary Gleason. They married 1 February 1759 at Warren, Worcester County, Massachusetts.
As the Battle of Lexington was being fought on 19 April 1775, the alarm went around the countryside for the Minutemen to march to defend the areas around Boston that were threatened by British troops. Samuel was 41 years old and he and Mary had nine children, but he answered the call as part of Captain Josiah Putnam's company in Colonel Jedediah Foster's regiment and marched to Roxbury, Massachusetts, for an eight-day campaign. The distance from Warren to Roxbury was more than 60 miles.
Samuel re-enlisted at the end of the campaign, on 26 April 1775, and served in Captain John Granger's company in Colonel Learned's regiment until 7 October 1775. I've found a couple sources that say Captain Granger's company may have fought at the Battle of Bunker Hill on 17 June 1775, but I haven't established that for sure yet.

On our Hundey side, we have close to a dozen Revolutionary War veterans, but Samuel is the only one who answered the alarm after the very first battle of the Revolution. He's our only Minuteman.
How I'm descended from Samuel Bliss:
Samuel Bliss (1734-1786) and his wife Mary (Gleason) Bliss (1735-1823)
Their son, Jonathan Bliss (1770-1864) and his wife Mary (Bond) Bliss (1770-1820)
Their daughter, Nancy (Bliss) Tompkins (1800-1855) and her husband William Tompkins (1795-1871)
Their daughter, Laura Malinda (Tompkins) Crout (1828-1896) and her husband Edwin Crout (1830-1879)
Their daughter, Ellen (Crout) Woodward (1851-1915) and her husband Merritt J. Woodward (1846-1928)
Their daughter, Mayme (Woodward) Hundey (1889-1971) and her husband Clarence Rueben Hundey (1887-1949)
Their son, Harold Benjamin Hundey (1907-1987) and his wife Katy Pleasant (Forquer) Hundey (1910-2000)
My mother
Me
 It's interesting that Laura (Tompkins) Crout, my 3 times great grandmother, has two great grandfathers who fought in the Revolution. In addition to Samuel, her great-grandfather Solomon Tompkins (1740-1823) was also a Revolutionary War soldier.
 Sources:
Barber's Historical Collections of Massachusetts – p. 613 and 276
Massachusetts Soldiers and Sailors of the Revolutionary War, Vol. 11, p. 189
Dodd, Jordan, Liahona Research, comp, Massachusetts, Marriages, 1633-1850 (Provo, UT, USA, Ancestry.com Operations Inc, 2005), Ancestry.com, Record for Samuel, Jr. Bliss.
The Lexington Alarm http://www.connecticutsar.org/articles/lexington_alarm.htm
Godfrey Memorial Library, comp., American Genealogical-Biographical Index (AGBI) (Provo, UT, USA, Ancestry.com Operations Inc, 1999), Ancestry.com.
Daughters of the American Revolution, Ancestor Search http://services.dar.org/public/dar_research/search_adb/default.cfm
Wikipedia, Battles of Lexington and Concord http://en.wikipedia.org/wiki/Battle_of_lexington
Google Maps, Warren to Roxbury, Massachusetts